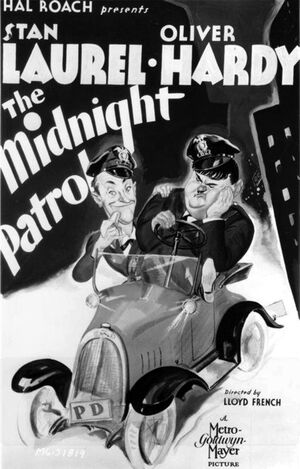 The Midnight Patrol is a Laurel & Hardy sound short film released 3 August 1933.
Summary
Stan and Ollie are policemen on night patrol. They are sent to investigate a reported break-in but while gathering the details from HQ they stumble upon a would be thief who is attempting to crack the safe of a small store. Stan mistakes him for the store owner, and assists him in the safe cracking. When Ollie enters to see what is keeping Stan, they realize that the thief is not the store owner and, rather than arrest him, order him to appear in court at a date to suit him. The boys head back to their car only to find the same thief attempting to steal it. Angered, Ollie insists that he must 'appear Tuesday' after all, a day the criminal is planning a bank robbery.
At the alleged crime scene, the owner of the mansion got locked out and so there is no actual robber or robbery at the location. The boys, unaware, break down the front door with great effort, causing a great deal of damage. They arrest the owner whom they perceive to be the robber.
The boys bring the suspect in with great praise from their colleagues, until they recognize him as the Chief of Police. Realizing their error Ollie explains that they are new. The boys flee as the Chief opens fire. The other officers then remove their hats and the Chief says "Send for the coroner."
Cast
Stan Laurel as Officer Stanley Laurel
Oliver Hardy as Officer Oliver Hardy
Louise Beavers as Maid (scenes deleted)
Harry Bernard as Jail visitor
Billy Bletcher as the voice of the Radio dispatcher
Frank Brownlee as Police Chief Ramsbottom
Edgar Dearing as Policeman
Charlie Hall as Tire thief's partner
Bob Kortman as Tire thief
James C. Morton as Policeman
Walter Plinge (real name Frank Terry) as Safecracker
Tiny Sandford as Policeman