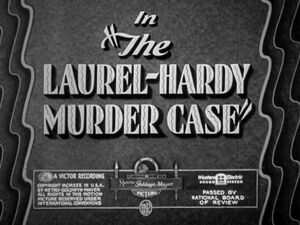 The Laurel-Hardy Murder Case is a Laurel & Hardy sound short film released 6 September 1930.
Summary
Stan and Ollie are seated on a dockside where Stan is fishing. Ollie sees a notice in a newspaper which says one Ebeneezer Laurel has died and left a large estate. Parties interested in the estate should go to the Laurel mansion for the reading of the will. Stan can't remember if Ebeneezer is his relative or not but they go to the mansion anyway. They arrive during a thunderstorm and discover that Ebeneezer had been murdered and that the police had placed the notice in the newspaper to draw all of the relatives together to find out who committed the crime.
Stan and Ollie are shown to a bedroom to sleep overnight, which is the room in which Ebeneezer was murdered. They hear a strange noise and in the darkness see a pair of eyes which turns out to be a cat. They then hear a scream and decide to investigate.
Meanwhile, the butler calls all of the relatives to a study telling them they have a phone call. After sitting in a chair and lifting the handset of the phone, the lights go out, there is a scream and a sound like a door slamming, and the relative is never seen again. Stan and Ollie return to their bedroom and get into the bed, but a bat has flown into their room and is under their covers. They panic and run downstairs.
All of the other relatives have now disappeared and the butler calls Stan and Ollie to take a telephone call in the study. Ollie sits in the chair to take the call. This time, however, the lights stay on. The chair is affixed to a trapdoor into which each of the other relatives vanished. Ollie falls through the trapdoor, but is saved because he is wedged in the chair. The murderer, in drag, appears through a secret door with a knife. A fight ensues, but then Stan and Ollie both wake up from a dream, fighting over Stan's fishing line at the dockside and then falling into the water.
Cast
Stan Laurel as himself
Oliver Hardy as himself
Frank Austin as Butler
Stanley Blystone as Detective
Bobby Burns as Nervous Relative at Window
Rosa Gore as Old Relative
Dorothy Granger as Young Relative
Dell Henderson as Housekeeper
Fred Kelsey as Chief of Detectives
Lon Poff as Old Relative
Tiny Sandford as Policeman