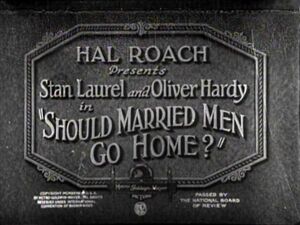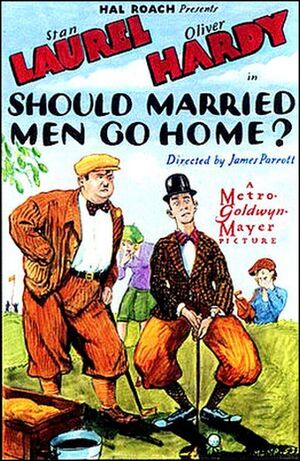 Should Married Men Go Home? is a Laurel & Hardy silent short film released 8 September 1928.
Summary
Ollie and his wife are enjoying a quiet Sunday at home until Stan arrives, eager to play some golf. After Stan breaks the Hardys' Victrola and nearly sets fire to their house, Mrs. Hardy chases the boys out. At the golf course, they are partnered with a pair of comely young lasses to complete a foursome. The girls want to be treated to sodas, but the boys are short of money. Stan leaves his watch to settle the thirty-cent bill. On the course, they tangle with rude golfer Edgar Kennedy, and wind up in a mud-throwing battle with several other players.
Cast
Stan Laurel as Stan
Oliver Hardy as Ollie
Kay Deslys as Mrs. Hardy (uncredited)
Edna Marion as Blonde Girlfriend (uncredited)
Viola Richard as Brunette Girlfriend (uncredited)
Charlie Hall as Soda Jerk (uncredited)
Edgar Kennedy as Golfer (uncredited)
John Aasen as Very Tall Golfer (uncredited)
Chet Brandenburg as Caddy (uncredited)
Dorothy Coburn as Muddy Combatant (uncredited)
Jack Hill as Muddy Combatant (uncredited)
Sam Lufkin as Shop Manager (uncredited)
Lyle Tayo as Lady Golfer (uncredited)
Trivia
It was reworked into the opening scene of Come Clean.