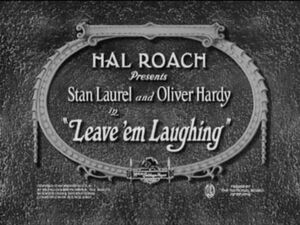 Leave 'Em Laughing is a Laurel & Hardy silent short film released 28 January 1928.
Summary
One night Stan complains that he has a toothache. Ollie goes to the bathroom to get him a hot-water bottle and keeps stepping on a tack lying on the floor. When Stan gets the water bottle, the stopper comes loose and the water pours out in the bed. The two of them make much noise and the landlord comes in, telling them that they will have to leave first thing in the morning.
The next day, Stan is in the dentist's office, but is too afraid to get his tooth pulled. The dentist leaves and Ollie demonstrates how Stan should sit and not be afraid. Meanwhile, the dentist tells one of his partners that he should go to the guy who is sitting in the chair and pull his tooth out. Naturally, he pulls Ollie's tooth. When Stan is back in the chair, he knocks over a gas cartridge which makes everyone laugh.
Stan and Ollie leave the office and go to their car, still laughing.
Cast
Stan Laurel as Stan
Oliver Hardy as Ollie
Charlie Hall as Landlord
Edgar Kennedy as Cop
Dorothy Coburn, Viola Richard as Nurses
Edgar Dearing, Al Hallett, Sam Lufkin, Tiny Sandford as Dental patients
Otto Fries as Burly Dentist
Jack Lloyd as Dentist
Jack Hill as Irate Motorist (uncredited)
Trivia
This film was remade as 1943's I Can Hardly Wait starring The Three Stooges.