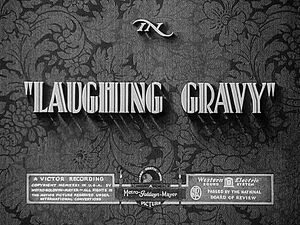 Laughing Gravy is a Laurel & Hardy sound short film released 4 April 1931. It is a remake of 1929's Angora Love.
Summary
On a snowy winter's night, Stan and Ollie try to keep their pet dog 'Laughing Gravy' hidden from their landlord, without success. The landlord eventually orders them to leave, but as the boys pack, Stan receives a telegram which states that he is to receive a huge inheritance from a deceased uncle, providing he sever all ties with Ollie, whom his uncle felt was responsible for Stan's deplorable condition. Ollie is outraged that Stan won't share the contents of the telegram with him, but is humble and understanding when he does read it. Stan decides to stay, mostly so he won't have to leave Laughing Gravy behind.
Cast
Trivia
This three-reel version was the original one, as Hal Roach had tried to switch to the three-reel format for Laurel & Hardy shorts, starting with The Laurel-Hardy Murder Case. Just after it was completed, MGM asked Roach to limit short films to two reels, and an alternative ending was shot instead. The three-reel version had already been previewed, and a work print was rediscovered in 1985.
The two-reel version and the first two reels of the three-reel version are identical except that the two-reel version ends with the landlord committing suicide when, due to his residence being quarantined, he finds he is unable to evict Stan and Ollie.