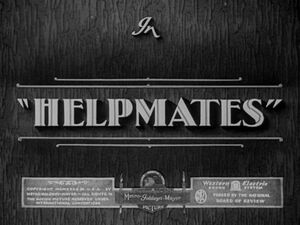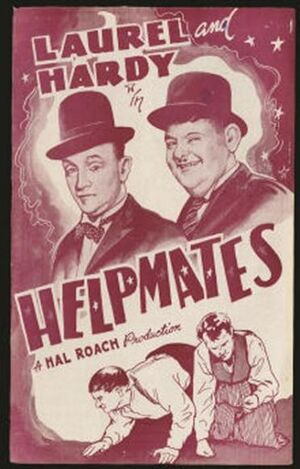 Helpmates is a Laurel & Hardy sound short film released 23 January 1932.
Summary
Ollie's house is a mess after a wild party the previous night. He receives a telegram from his wife, who is on vacation in Chicago, which tells him that she is returning home in the afternoon. Fearing his wife's wrath, he calls Stan over to help him clean up. Things go downhill and they make more mess not less. Ollie becomes frustrated and lights the oven the wrong way, turning on the gas first instead of lighting the oven. The result is an explosion that trashes the living room and kitchen, as well as Ollie's hat.
Ollie's suits get stained with soot, soaked with dirty water, and covered in flour, until he has no choice but to go meet his wife at the station in his lodge uniform. Stan restores the house's interior to its proper look and decides to light a fire in the fireplace for Ollie and his wife. When he can't light the logs, he soaks them with kerosene, lights a match, and moves it towards the logs. Ollie returns from the train station with a black eye, a bent sword, and without his wife. The house is a smoldering ruin. Stan leaves Ollie seated on the only remaining chair looking bemused, then a huge rainstorm pours down on him.
Cast
Stan Laurel as Stan Laurel
Oliver Hardy as Oliver "Ollie" Hardy
Blanche Payson as Mrs. Hardy
Robert Callahan as Messenger
Bobby Burns as Neighbor in garden