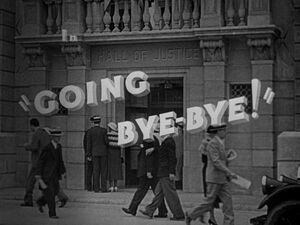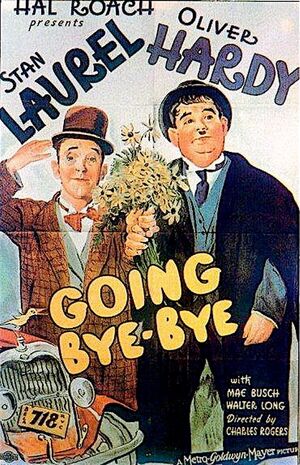 Going Bye-Bye! is a Laurel & Hardy sound short film released 23 June 1934.
Summary
In a packed courtroom, Stan suggests to the judge, "Aren't you going to hang him?" Butch Long vows revenge on 'squealers' Stan and Ollie whose evidence has helped to send him to prison for the rest of his life, threatening to "break off their legs and wrap 'em around their necks!" Later, in the car, Ollie repeats Stan's question sarcastically, then asks Stan, "Couldn't you see that he was annoyed?"
The clearly frightened boys make plans to move far away and advertise for someone to go with them and share the travel expenses, namely Butch's girlfriend. Butch soon escapes by leaping from a train, and makes his way to his girlfriend's apartment. When Stan and Ollie ring the bell, Butch thinks it's the cops at the door and hides in a large trunk. The trunk gets locked and Butch can't get out. The boys do their best to get him out, not realizing who the trapped person really is. After several inept attempts at freeing him, Butch recognizes Ollie through a bored hole. His suggestion of using a blowtorch to melt the lock off backfires as Butch is set on fire. The boys hose Butch down and he frees himself from the trunk, taking his promised revenge on them as the cops arrive shortly afterwards. Stan and Ollie sit on the couch, both with their legs snapped off and tied around their necks. Then Ollie says his "another nice mess…" catchphrase to Stan, who just whimpers.
Cast
Walter Long
Mae Busch
Harry Dunkinson
Sam Lufkin
Trivia