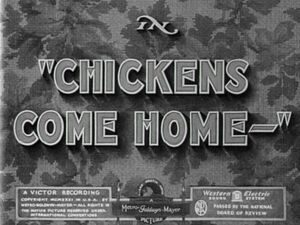 Chickens Come Home is a Laurel & Hardy sound short film released 21 February 1931.
Summary
Fertilizer dealer and mayoral candidate Ollie is confronted at his office by an old flame threatening to publish an old photograph of the two riding piggyback on the beach if she is not paid off. Ollie agrees to meet her that evening to make a settlement, but Mrs. Hardy arrives to remind him of a dinner party taking place at the same time. Ollie recruits employee Stan to go to the woman's apartment while Ollie attends the party, a maneuver which does not please the woman, who demands Ollie's telephone number, touching off a variety of misunderstandings and suspicions of unfaithfulness between the boys, their wives, Ollie's butler and Mrs. Laurel's gossipy friend.
The woman eventually makes it to Ollie's house, despite Stan's efforts. Ollie passes her off as Mrs. Laurel to avoid suspicion. After the guests leave, Ollie threatens to kill the woman and then himself, causing her to faint. The boys try to get her out of the house, but Mrs. Hardy and Mrs. Laurel, the latter armed with a hatchet, easily catch on, and the boys flee.
Cast
Stan Laurel as Mr. Stan Laurel
Oliver Hardy as Mr. Oliver Hardy
Mae Busch as Ollie's old flame
Baldwin Cooke as office worker
Gordon Douglas as passerby outside apartment
Norma Drew as Mrs. Laurel
James Finlayson as butler
Elizabeth Forrester as passerby outside apartment
Charles K. French as Judge
Clara Guiol as secretary
Frank Holliday as Mr. Holliday
Ham Kinsey as Mr. Kinsey
Dorothy Layton as office worker
Venice Lloyd as office worker
Patsy O'Byrne as busybody
Gertrude Pedlar as Judge's wife
Frank Rice as Hardy's dinner servant
Thelma Todd as Mrs. Hardy
Spanish version
A Spanish-language version of this film was completely re-shot with the stars delivering their lines in phonetic Spanish. It was expanded to one hour by adding scenes of Abraham J. Cantu, a magician and of vaudeville regurgitator, Hadji Ali, performing at the Hardy dinner party. Titled Politiquerias, the film was released in Latin American and Spanish markets as a feature.
Joining headliners Laurel and Hardy was a supporting cast of native Spanish speakers. Linda Loredo played Mrs. Hardy, Carmen Granada was Mrs. Laurel and Rina De Liguro was the burr under everyone's saddle in the Mae Busch role. James Finlayson absorbed the abuse of the magician and the regurgitator in the added scenes, reprising his role as the Hardy butler.
Trivia