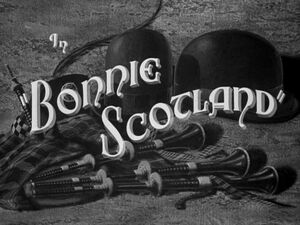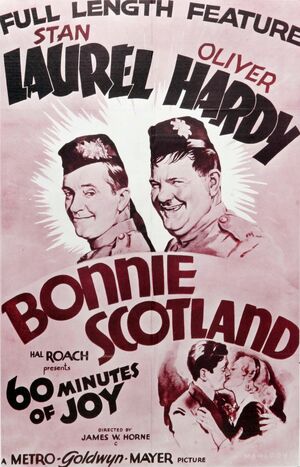 Bonnie Scotland is a Laurel & Hardy sound feature film released 23 August 1935.
Summary
After escaping from jail where they had "one more week to serve," Stan and Ollie stowaway on a cattle boat to Scotland, where "Stanley McLaurel" believes he is heir to his grandfather's fortune. As it turns out, Stan has only been bequeathed a set of bagpipes and a snuff container. When Ollie tries to demonstrate to Stan the proper way to use snuff, he flies off an old bridge. His clothes are soaked.
In the boarding house, Stan swaps their overcoats for a large fish for dinner. In quick succession the fish "shrizzles" to about a tenth its size, Ollie's pants are burnt and ruined, and an attempt to hide the still-hot stove results in the landlady throwing the two out and confiscating their luggage for non-payment of rent.
Receiving an ad for a tailor's offer of a new suit, Stan and Ollie accidentally go to the wrong floor and join a Scottish regiment of the British army and travel to India, where they frequently run afoul of their Sergeant Major, and help their friend Alan reunite with his love, Stan's cousin Lorna McLaurel.
Cast
Oliver Hardy as Ollie Hardy
Stan Laurel as Stanley MacLaurel
June Lang as Lorna MacLaurel
William Janney as Allan Douglas
Anne Grey as Lady Violet Ormsby
Vernon Steele as Colonel Gregor McGregor
James Finlayson as Sergeant Major Finlayson
David Torrence as Mr Miggs
Maurice Black as Khan Mir Jutra
Daphne Pollard as Millie the maid
Mary Gordon as Mrs. Bickerdike
Lionel Belmore as The blacksmith
David Clyde as Highlander