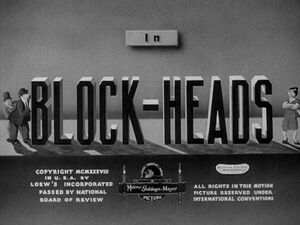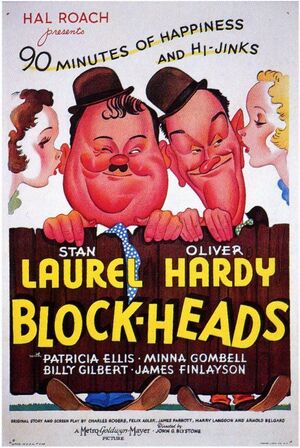 Block-Heads is a Laurel & Hardy sound feature film released 19 August 1938.
Summary
In the trenches of World War I, Ollie, Stan and the rest of their army company are ready to go 'over the top', but Stan is ordered to stay behind to guard the trench. Fighting is followed by Armistice. Twenty years pass, and Stan is still guarding the post, having accumulated a huge pile of bean cans, and worn a path pacing back and forth on guard. He is found by accident after firing on a plane he sees approaching, and goes home, feted as a hero. Ollie, who has been married for a year to the formidable Mrs. Hardy, sees him in a newspaper and visits him in the veterans' home. He finds Stan in a wheelchair, having apparently lost a leg, and invites him home. However, Stan is in fact just resting in another veteran's wheelchair and Ollie only finds out he still has both legs after pushing him around in the chair and then carrying him. They reach Ollie's automobile, which he says belongs to his wife and is 'practically new', but Stan quickly manages to completely wreck it.
The two men then start to climb thirteen flights of stairs to Ollie's apartment, because they think the elevator is out of order. A man insults Ollie, leading to a lengthy argument. Then they run into a brattish kid with a football, which results in Ollie kicking his ball down the stairwell, leading to another argument with the kid's burly father. When Ollie and Stan finally reach the apartment, Ollie's wife disapproves of Ollie bringing home yet another bum, so Ollie has to prepare a meal for Stan, but the pair only succeed in blowing up the kitchen. Ollie's attractive neighbor, Mrs. Gilbert, offers to help clear up the mess, but gets herself soaked and ends up in a pair of Ollie's enormous pajamas. Mrs. Hardy then returns, so Ollie and Stan have to hide her. When Mrs. Hardy finally leaves, Mrs. Gilbert's husband arrives and when he sees his wife there, he chases Stan and Ollie down the stairs, firing a shotgun. A large number of men without trousers jump out of windows.
Cast
Stan Laurel as Stan
Oliver Hardy as Ollie
Patricia Ellis as Mrs. 'Toots' Gilbert
Minna Gombell as Mrs. Hardy
Billy Gilbert as Mr. Gilbert
James Finlayson as Finn (man on stairs)
Zeffie Tilbury as Dowager seated near stairs
Harry Anderson as Doorman
Mike Behegan as Bugler
Patsy Moran as Lulu
James C. Morton as James, porter
Karl Slover as Midget
Chill Wills as Midget (voice)
Tommy Bond as Neighbor's son
Ed Brandenburg as Pedestrian
Tex Driscoll as Bearded veteran