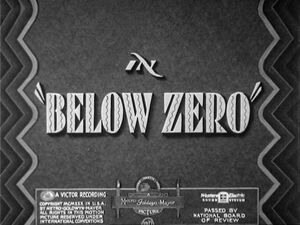 Below Zero is a Laurel & Hardy sound short film released 26 April 1930.
Summary
Stan and Ollie are busking on a snowy winter's day, but playing "In the Good Old Summertime". They are excited to hear a clink in their cup, but surprised to find it's an egg from a pigeon above. Stan throws a snowball at the pigeon, but hits a man in the window. He throws one back and it lands in a passing woman's pail of milk. She thinks Stan and Ollie threw it, so she smashes the egg in Ollie's face. Stan throws her milk pail in the street and Ollie laughs so she smashes his cello over his head, then tosses Stan's organ in the street where a truck runs over it.
Stan finds a wallet in the snow. They are chased by a thief, but are protected by a police officer. Stan and Ollie share a meal with the cop, but when he goes to pay, Stan realizes the wallet in fact belongs to the cop. When the policeman discovers this he tells the waiter who throws them out of the restaurant and dumps Stan headfirst in a rain barrel. Oliver finds Stan and asks what happened to him. Stan explains that he was thrown in a barrel of water, but Ollie looks in and asks "Where's the water?" Stan says he drank it. Oliver tips the barrel over so Stan can get out and he now has an enormous belly!
Cast
Stan Laurel as Stan
Oliver Hardy as Ollie
Bobby Burns as 'Blind' man / deadbeat diner
Baldwin Cooke as Man at window
Kay Deslys as Woman at window
Charlie Hall as Annoyed shopkeeper throwing snowball
Jack Hill as Busboy
Frank Holliday as Policeman
Charles McMurphy as Extra at restaurant
Bob O'Connor as Extra at restaurant
Retta Palmer as Woman leaving window
Blanche Payson as Formidable woman
Tiny Sandford as Pete
Charles Sullivan as Extra at restaurant
Lyle Tayo as Woman at window tossing Stan & Ollie a dollar
Leo Willis as Crook